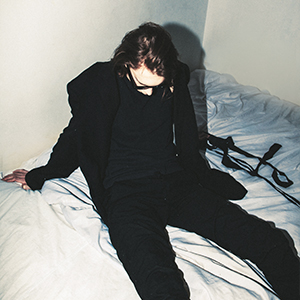 AIRCRAFT (UA)

Founded as an experimental one man band with a guitar and drum machine, Aircraft eventually grew into something conscious and more electronic. Combining different elements from different eras, weaving mesmerizing deep soundscapes. Modern synth pop leaning on shoegaze and dreampop.


AOP13 TENT TAKEOVER

Berlin based collective AOP13 are taking over the cirkus stage on Saturday 20/8 with an impressive line-up of new and familiar faces. DJ-sets by:

Zanias - Xhib - LGHTWGHT - Sbtg999 - Disorder - ANAN

| e̸ b̸ m̸ | t̸ e̸ c̸ h̸ n̸ o̸ | g̸ o̸ t̸ h̸ | i̸ t̸ a̸ l̸ o̸ | s̸ y̸ n̸ t̸ h̸ | f̸ r̸ e̸ e̸ s̸ t̸ y̸ l̸ e̸ | a̸ c̸ i̸ d̸ |



Originating from Derry, Ireland, Christian Donaghey's Autumns is an outlet for electronic post-punk with a lethal pulse. Working at an impressive rate, he started 2022 off with a new EP on Los Angeles L.A.U.R.A followed by the double whammy 'Mouth Closed' and 'Mouth Open' on Detriti Records. Get set for an intense live show delving deep into transgressive noise, dysfunctional metal dance and DIY punk angst.


Catherine Moan is the solo electronic pop project of Angel Jefferson from Philadelphia. Her unique combination of vintage synthesizer textures and modern pop songwriting creates a sound that nods to the past while existing in the present. Coming off of the release of her debut album Chain Reaction she is focusing on playing live shows to share the electric vibes of moody music with friends and strangers while also exuding an aspirational joy through pop.


Das Das is the collaborative effort of Berlin solo artists Cosey Mueller and Schwund. Their no nonsense synth-punk is to the point, raw and melodic with a timeless quality. Second LP 'Leben in Bildschirmen' released on illustrious Detriti records is one of our favorite albums of yesteryear.


Our westcoast friends Delirium are back, taking control over Cirkus stage on Friday 19/8. Basslines are to be expected. Dj sets by Trettinian, Nino Tares, SnällKriminell, 50hz and friends. Special live performance by Nino Tares.

: New beat : Techno : Acid : Wave : Italo :


UNDERPRODUCED SWEATY, HYPER ROMAN ELECTRO PUNK FOR YOU TO HEAR WHILE YOUR BODY IS GROWING STRONGER. MUSCLE.


Dlina Volny is a heartbroken and mysteriously beautiful brut-pop trio. Inspired by their love of early 80's Soviet Pop & Brutalist Architecture, the Minsk-born trio employs the mechanized action of motoric rhythm machines, vintage synthesizers & post-punk bass lines to put their spin on classic new-wave sound. Encapsulating the morse-code arpeggios and icy guitars is Masha's vocals like a warm fog in the night.


At the core of Geuxx is Pavlo Dmytriiev, fabricating dark-gaze on the verge to post-punk with psychedelic accents. Going from guitar noise over slow drum machines on debut EP 'YTY' to dark rhytm shoegaze on "II". Performing at Kalabalik and Black! Factory in 2018 and Tallin Music Week in 2019. His recent work 'Forever Human' is the first track of 'PYX' compilation, using the speech of Ukrainian poet Vasyl Symonenko, member of Sixtiers (poets in opposition to soviet state order in 60's Ukraine).


Kyiv based duo Hungry Boys was founded by members of Gil'otina, going for a more danceable, funky style featuring italo wave, new beat and obscure disco with sharp beats, kinky basslines and minimalistic vocals. Since their first single Glorydisco they released the excellent Batumi Club EP and played Kyiv's Black! Factory festival.


Infecticide brandished the absurd at the service of the serious. An ingeniously handled second degree with influences as diverse as the military frigidity of Front 242 and Liaisons Dangereuses, or the festive exuberance of Detroit Grand Pubahs and the Beastie Boys. A sharp and efficient electro-punk wave with neo-Dadaist lyrics for an unclassifiable mixture that is as grating as it is jarring. Infecticide doesn't play around, but attack from the front, 242.


Les Trucs are two humanoids and a pile of electronic gadgetry. Half flesh, half wire, half experiment and half pop. With their fast and energetic live shows, this Frankfurt based duo is constructing a scenery made out of noise, composition, voices and odd movement.


Formed by Alison Lewis (Zanias) and Ryan Ambridge in 2011, Linea Aspera released their self titled debut album the following year. An iconic work for the resurgance of minimal synth and cold/dark wave during the last decade. The duo disbanded in 2013 but is now back on stage with an all new LP to back them up.


Inspired by a wide array of sounds, 80s synth, techno, folk and black metal to name a few. With haunting vocals and heavily reverberated instrumentals LIVMØDR could fill an entire arena with pitch black melancholy. Leaving us with a spiritual journey straight into the abyss, equally devastating and bewitching. Performing live at Blädinge Church on Sunday 11:00.


Five years after their widely celebrated European stage debut at Kalabalik, Morning Hands return with their bright earwormy synth-pop. The Oakland duo is in many ways the antithesis of Diesel Dudes with Patric Tabor taking the mic and Douglas du Fresne maining the keyboards. After several well received EP's, they released their self titled full length album 'Morning Hands' in 2019. Possibly California's largest synth-pop group.


Morwan is a project by Kyiv musician Alex Ashtawi. His music combine the rhythmic basis of post-punk with Arabic and Slavic motifs. "The nature in songs acts as a fundamental force, a given from which you cannot escape. With the help of metaphors associated specifically with nature I tell about some of my personal experiences and stories." Zola-Zemlya is equal parts primitive and contemporary, as traditional Middle Eastern instrumentation and structures are woven through driving, modern post-punk rhythms.


Newcomers Novitjok are a synthy post-punk outfit based in Gothenburg. Raw and jarring, their debut EP 'Alarma' is characterized by desperate and restless times, inspired by 80's post-punk and fuzzy dancefloor memories. Resulting in a distressed though mesmerizing sound. The members of Novitjok are no strangers to Kalabalik, but it will be their first time performing on stage.


Formed as an 'art project' influenced by 80's Industrial and EBM, the rave sounds of the early 90s and inspired by the documentaries of Adam Curtis. R&M's debut album 'Manifesto for a modern world' was released in 2019 to much acclaim. Followed by a split with New York scene veteran Andi Harriman and a remix album featuring acts such as Ancient Methods, Schwefelgelb, Gamma Intel and Kris Baha. We are proud to present an exceedingly rare live performance this summer.

Ascending from the LA anarcho post-punk scene Riki captured our hearts with her self titled 2020 debut album and it's playful though genuine nods to synth pop and italo disco. Emerging from the pandemic with the enthralling second album 'Gold' and extensive touring trough the US she is finally set to take the stage at Kalabalik.

Stockholm based artist and producer Roya returns to Alvesta with an impressive array of releases since her festival debut back in 2016, having drifted seamlessly through genres from dark electronica via ambient pop to experimental. Recent single 'Break the Lines' is the first taste of her next album due later this year.

Formed in Lviv during 2020 by Anton Shiferson, Ship Her Son blends ironic German lyrics with sharp and menacing electronics. Referencing the life, culture and local meme-heroes of Ukraine. Brand new 'Alles wird gut' EP was finalized during the rise of full-scale war, reflected both in the sound, mood and themes on display. There are no soul warming quotes or recipes of traditional cuisine here, rather a complete story about the crisis state of man and the accompanying worldview, where there is still some room for hope and irony.


Lithuanian 'sad dance'-four-piece Solo Ansamblis has gained a dedicated audience merging moody electronic post-punk with stadium rave vibes. 2020 saw the release of their second album 'Olos', an offbeat blend of hypnotic basslines, somber synths and captivating vocals. We're proud to host their first live show in Sweden, perfectly set against the rural backdrop of Tyrolen.


Originally from Izmir, Turkey, currently based in Vienna, Yigit Bakkalbasi and Cemgil Demitras are Zack Zack Zack. Their aptly named debut album 'Album 1' was released in late 2021 and immediately caught our attention. A fusion of modern and retro, east and west, where synthesizer meets cümbüs, saxophone complements saz and lyrics combine Turkish, German and English.