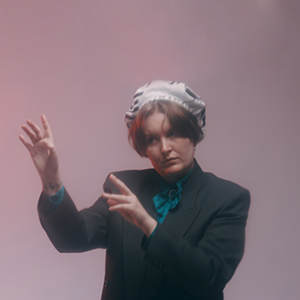 BLACK DAHLIA (AU)
SATURDAY - 01:00 - JODDELERO

Black Dahlia is an experimental musician and vocalist known for her mind bending, danceab4e and avant-garde live performances. Fusing elements of new beat, theatrical synth-pop, italo, EBM, industrial, and everything vintage, she commands the stage with off-the-wall theatrics and a certain bite of fright. Along with multiple international releases, she has performed live supporting artists such as Zanias, Buzz Kull, Enola and Rebel Yell.

BURA BURA (AU)
FRIDAY - 00:00 - JODDELERO

Solo artist and multi-instrumentalist Colin Thompson is a veteran in the underground music scene of Sydney. Carving from the depths of dystopian body horror, his live performances are both aggressive and engaging, succumbing to an ultimate creation of a darker ego. The 2018 Bura Bura debut 'The New Flesh' takes heavy handed cues from Cronenberg's cult classic Videodrome and explores the relationship between man and machine, dreams, nightmares and the structures of the human condition.


CALAMITY JANE & WILD BILL (SE)
SATURDAY - 19:00 - JODDELERO

Based in Malmö and Berlin, Ian Memgard and Estrid Nyman draw on everything from obscure 80s wave and DIY soundcloud producers to orthodox christian chants and lush synth-pop productions. Bringing a punky, chaotic energy on stage that engages the audience and makes every show memorable. CJ&WB have built a cult following with their catchy songwriting and idiosyncratic, often strange or humorous lyrical approach, as evident by their already impressive, all self-produced back catalogue.


CHARLIE (PL)
SATURDAY - 23:00 - JODDELERO

Known in Krakow's visual art scene as co-director of the project space "Elementarz dla mieszkanców miast" and for parties thrown under the name of "Szum". Charlie mends the seams between cold minimal synth and balmy italo disco with pure dancefloor energy and is said to pack a killer live show. Featured on labels such as Ferry Lane Records, Mechatronica, Worn Pop and Dom Trojga.


FATAMORGANA (ES)
FRIDAY - 23:00 - ROTUNDAN

Formed in Barcelona during the summer of 2017, Fatamorgana sprang to life from the hearts and minds of Patrycja Proniewska (Belgrado) and Louis Harding. What began as a bedroom project with monophonic synthesizers and 4-track cassette recordings soon blossomed into a functional live unit. Melodic and minimalistic, their dreamy soundscapes are unmistakable.


GETEN (SE)
FRIDAY - 01:30 - CIRKUS

Cultivated among the shrieks of heavy metal and the grandeur of italo disco, Geten (the goat) was born in Blädinge circa 2019 as a means for two childhood friends to stay connected. Locally produced hymns of power evoked by love and despair.


JOHN MAUS (US)
SATURDAY - 00:00 - ROTUNDAN

Born in the decade of synth pop and sharing his birthday with George Frideric Handel, John started making music when Nirvana posters went up on every teenager's wall. It's this curious conflux of influences that partially helps to describe John's music. It's a world where the Germs jam with Jerry Goldsmith, Cabaret Voltaire relocate to Eternia and Josquin des Prez writes a new score for RoboCop. The confrontation of punk, the fleeting poignancy of 80s movie soundtracks, the insistent pulse of Moroder and the spirituality of Medieval and Baroque music all find salvation in John Maus.


KARL KAVE & DURIAN (CH)
FRIDAY - 20:00 - JODDELERO

"Aus dem Patriarchat macht Gurkensalat!" (Turn the patriachy into cucumber salad!) Karl Kave & Durian are fond of polemic slogans, eventhough by closer listening one could notice their appetite for contractions and slippery terrains. While their first two records exist in the realms of EBM, post-punk and synthpop, the duo is moving towards dance and Chicago house on their new album "Auf der Suche nach der verlorenen Night". Somewhere between Rave and poetry they seem to hit a nerve with audiences young and (c)old: A round dance of dark romanticism, humor, folly and Hochkultur.


MADMOIZEL (FR)
FRIDAY - 19:00 - ROTUNDAN

Born in Marseille and based in Paris, Madmoizel is a classically trained composer, performer and producer with a wide sonic spectrum reaching from neo-classical to electronic. Her syncopated vocals and captivating live performances has her directing machines with the precision of a conductor, as one would lead an orchestra. Touring the European underground, fashion and contemporary art scenes since 2010, Madmoizel shared the stage with Anne Clark, KAS Product, Peine Perdue and ORLAN to name a few.


MAELSTROM & LOUISAHHH (FR)
FRIDAY - 01:00 - ROTUNDAN

After a decade of collaboration, including co-founding their label RAAR, stalwart techno-punks Maelstrom and Louisahhh embark on their first live-hybrid tour. With an energy that could be described as 'Doof warrior in the Black Lodge', the show treads a fine line through the tense, uncanny darkness of the songs lyrical content, and feral, ferocious energy fueled by loving truth, all towards a goal of 'collective effervescence'. Drawing from an ample body of work, the Sustained Resistance Tour demonstrates exactly that: finding joy in the tension, connection and delight in defiant noise.


MISSVNARIES OV CHARITY (DK)
SATURDAY - 18:00 - ROTUNDAN

MISSVNARIES ov CHARITY is a trio hailing from Copenhagen. Frantic, funky and horny drum machine post-punk with a penchant for no wave and theatrics.


MODEM (FI)
FRIDAY - 21:00 - ROTUNDAN

Helsinki based synth pop duo Modem fabricate dystopias of the past and future, questioning the possibilities of media and human communication. Inspired by minimal electronics, new wave, italo disco and film scores of the late 1970s and early 1980s they produced two exceptional 12" singles released on their own label Modem Age Records. The duo is currently working on their first album to be released in early 2024.


PUERTA NEGRA (US)
SATURDAY - 22:00 - ROTUNDAN

Portland duo Puerta Negra instantly caught our attention with the release of their debut EP 'Costo Humano'. 20 minutes of catchy, syncopated EBM funk meets synth punk bolstered by rowdy chanting in Castilian. Joining us for the very first time in Europe this summer.


SPEED BENSIN (SE)
LÖRDAG - 01:30 - CIRKUS

Local forest dwellers Speed Bensin have been summoned to conclude the festivities and bring order back where chaos reigns. Psychadelic electronics with a destructive essence and sentimental hue formed in the unpenetrable darkness of the primeval forest.




T.G.T.B. (SE)
FRIDAY - 22:00 - JODDELERO

Mysterious Stockholm duo T.G.T.B. draw inspiration from dark sweaty clubs and abandoned industrial buildings. Combining gloomy dance music with bubbly, melodic synth work and a harrowed vocal delivery their 2022 debut LP 'Stockholm soul' has an obscure and timeless quality to it.


TORCH (DK)
SATURDAY - 20:00 - ROTUNDAN

Their sound enticing, omnious and freezing cold. Greenlandic/Danish trio Torch draw inspiration from gothic post-punk, melancholic cold wave and rumbling EBM, conjuring both distressing, longing songs and bleak, sweaty bangers. Soon to deploy their eagerly anticipated debut album.